PROJECT OVERVIEW
This State of Vermont State-wide financial accounting system known as VISION requires upgrading from the current PeopleSoft Financials version 8.8 to version 9.2 for all modules currently being utilized by the State of Vermont.  This includes General Ledger (including Commitment Control), Accounts Payable, Purchasing, Asset Management, Inventory, Billing, Accounts Receivable, Travel & Expenses, and Grants Tracking (Vermont customized).  In addition, new functionality that is available in v9.2 that meets the requirements of the State will be implemented. 
The State has contracted with Sierra-Cedar, Inc.,  a premier consulting firm that specializes in government systems implementations, to conduct the upgrade. The project officially kicked off in July and is broken out into seven phases:
PHASE 1 - Plan & Discovery
This phase gathers the information required to understand the business, application, and technology needs. It lays the foundation for a successful project by outlining project standards, strategies, and plans, including change management, in addition to defining and fine-tuning the project scope, timeline, and resource requirements.
PHASE II - Analyze & Design
This phase includes upgrade preparation and analysis to review the State's requirements and the delivered application. Design begins with planning to conduct analysis meetings.  The primary output of these meetings will be the System Design Documentation.  Also in this phase, Sierra-Cedar will begin the Technical Upgrade process by performing an initial upgrade pass. 
PHASE III - Configure & Develop
This phase addresses the functional and technical aspects of the implementation including processes, procedures, integrations, and reports. During this phase, the modules are configured and tested against the stated requirements.  This phase also includes an initial upgrade pass as well as development and retrofitting of customizations, interfaces and reports in support of requirements.  Configuration and development items will be unit tested during this phase.  The team will also start updating the State's training materials.  PeopleSoft v.9.2 development and test environments are established for development and Unit Testing.
PHASE IV - Test & Train
In this phase the project team validates that the system is operating as expected and trains the users. This effort helps to prepare the system and users for Go-Live.  It includes performing System/Integration Testing, User Acceptance testing, and Performance testing in conjunction with completing Test Move 1 (for System/Integration testing) and Test Move 2 (for User Acceptance and Performance testing).  Also, included in this Phase is Test Move 3 for Final Cutover Testing which focuses on finalizing and assessing cutover activities, timings, roles/responsibilities, and dependencies.
PHASE V - Deploy & Optimize
This phase marks the deployment of the system to the users through Go-Live. 
PHASE VI - Post Go-Live Support
Sierra-Cedar will provide two consecutive periods of post Go-Live support, 30 days each, called Post Implementation Support. 
Phase VII - Warranty Period
Sierra-Cedar will provide warranty support following the successful completion of the Post Go-Live Support phase, for 90 days.
PROJECT STATUS
 
Currently the project is in scope, on schedule and within budget. 
HIGH-LEVEL PROJECT TIMELINE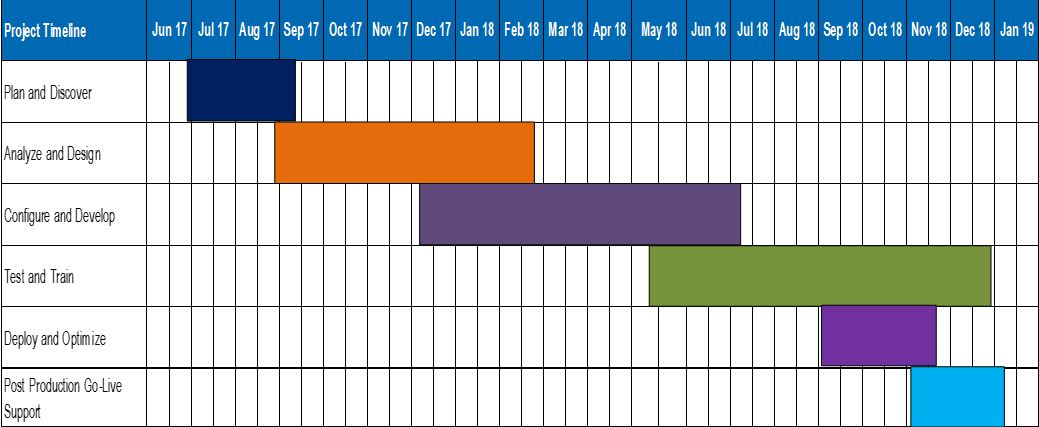 PROJECT SPONSORSHIP 
Adam Greshin, Commissioner for the Department of Finance & Management is the Executive Sponsor.
Brad Ferland, Deputy Secretary for the Agency of Administration is the Project Sponsor. 
CORE PROJECT TEAM
The people leading this initiative from the Department of Finance & Management are:  
Ruthellen Doyon, Director of Statewide Accounting - Functional Lead, Executive Steering Committee Member
Nancy Collins, Director of Statewide Reporting - Functional Lead, Executive Steering Committee Member
Eric Hoefel, Change Management Specialist - Change Management Lead, Executive Steering Committee Member
The people leading this initiative from the Agency of Digital Services are: 
Frank Costantino, IT Director - ERP Technical Services - Technical Lead, Executive Steering Committee Member
Trudy Marineau, IT Manager - ERP Technical Services - Technical Lead, Executive Steering Committee Member
Cheryl Burcham, IT Project Manager - Project Manager
Should you have any questions or concerns pertaining to the project, please e-mail us at:  VISION.Upgrade@vermont.gov.